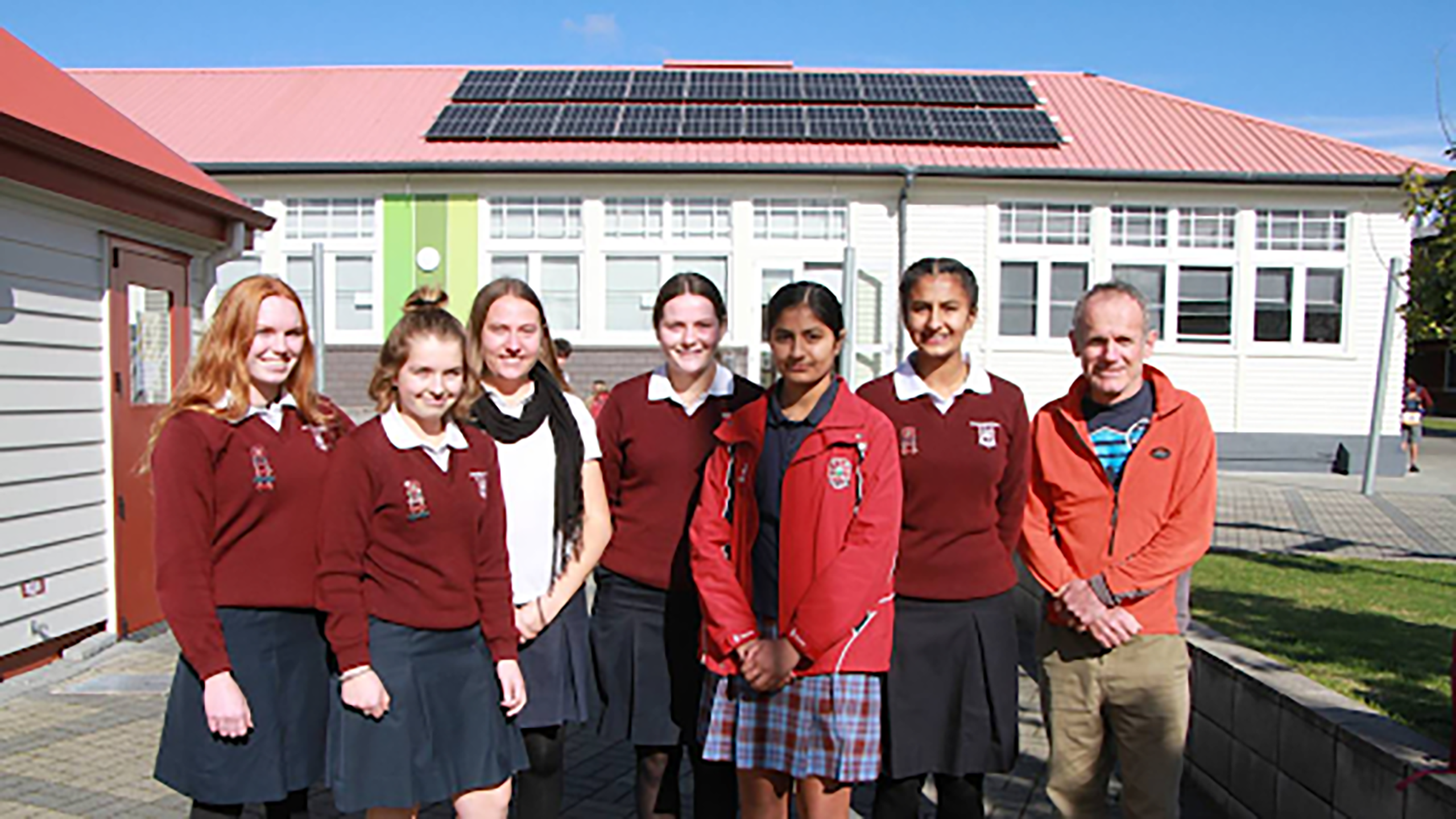 The Enviro Group was set up in 2019 by Mr Joe Anderson from the maths department and a group of very motivated students, some motivated enough to go vegetarian for the climate! This now even has a name: Climatarian!
The Group was inspired by Greta Thunberg and her dedication to raising awareness of the current climate crisis. With the help of the committee's student leader, Ciara Sunnex, in Year 11 at the time, and two TPHS staff members, the group began to take action to be more climate-conscious students.
The group kicked off 2019 by taking part in the Student Strike for Climate in Tauranga, which was organised by a Mount College group of students. We also met with Dave Dobbin, (not the singer), a teacher who has been running a similar group at Trident High School in Whakatane where they have made substantial changes around their school.
We soon realised that our school has a huge carbon footprint and generates a lot of waste and that there is plenty that needs to be done, plenty of lessons to be learned, problems solved, and changes made.
Mr Anderson retired at the end of 2019, but has continued to be involved with the group, and we have been helped and mentored by teachers Ms Michelle Jamieson, Ms Ali Rennie and Ms Kate Hills, and Jasrose Mallhi is our new student leader in 2022.
So what have we been up to?
The school's electricity bill is more than the gross annual salary of one teacher. This is a similar amount of power to 45 average NZ houses.
Since 2019, during each school holiday we have endeavoured to switch off as much power as possible, mainly the many hot water cylinders. We also used some funding from the BOPRC Environmental Enhancement Fund ( EEF ) to install electric timers to switch off our zip water boilers in the evenings and weekends.
Our power savings for a summer holiday is the equivalent of 7 tonnes of CO2 going into the atmosphere, if that amount of power was generated at the Huntly coal-fired power station.
The school is also replacing it's light bulbs, as they fail, with LED bulbs, which use half the power of the old ones.
With funding from TECT and BOPRCs EEF, we were able to install 6kW of solar panels on the roof of the old block/ drama department in mid 2020.
The inverter that changes the direct current to alternating current, is connected to the internet and you can see the power being generated live. It shows how much CO2 emissions we've prevented, the tree equivalent that could absorb that CO2, and the dollars saved. 
Shortly after installing our panels, we had a visit from another solar power company who analysed our energy usage and recommended a further 70kW would be our optimal capacity! We have sufficient roof space to provide our maximum power demand (150kW). However, this peak is in the early winter mornings when there is little sun, so serious battery power would also be needed. Unfortunately, this is unrealistic with current technology.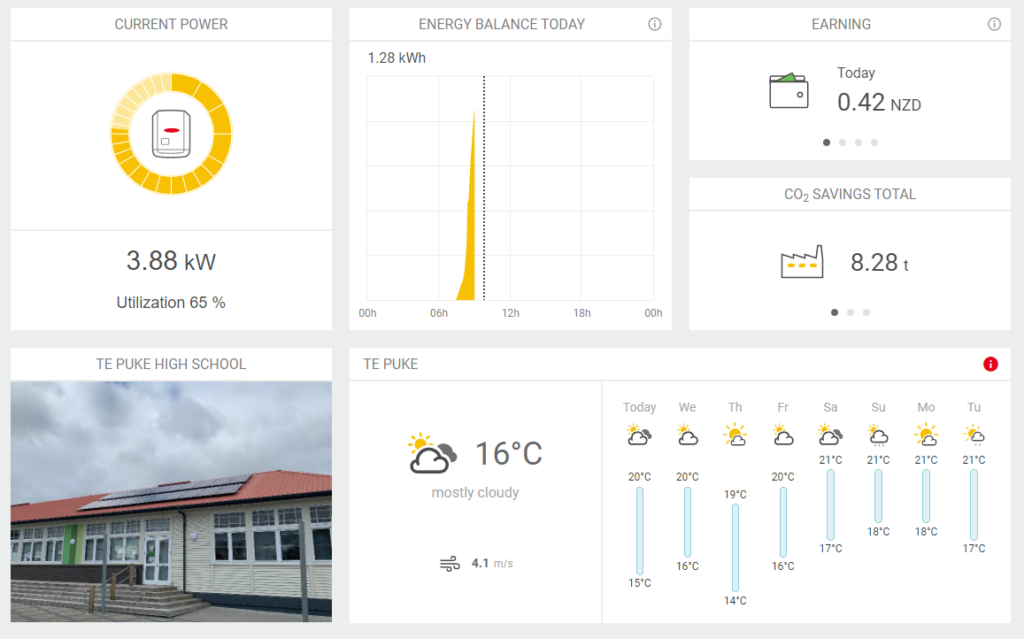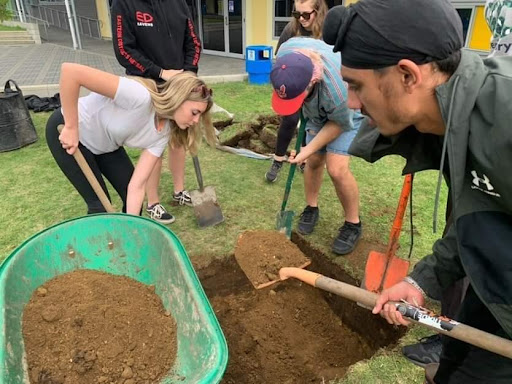 In 2021 we planted a Titoki tree in the Pod Quad, also funded by BOPRCs EEF. Besides absorbing lots of carbon from the air, it provides us with much-needed shade in this very sunny area of the school. It was quite an undertaking, as the ground here is very hard clay. It took quite a bit of muscle one Sunday, to dig a 1m cubed hole and replace the clay with compost to give our tree a better chance than the original trees planted here, which both died. We hope to plant more trees this year.
Another project for the future is to install a rainwater tank to supply these trees and our horticulture garden.
We've tried various combinations and positions of bins in classrooms, but so far, other than in the art department, keeping paper recycling apart from other rubbish has proved difficult. Something to work on.
An audit of our rubbish bins in late 2019 showed that we had quite a volume of plastic bottles and drink cans going to landfill. We are hoping to get funding for a trial recycling bin for these. We will need to run a campaign to encourage the use of it, and organise ourselves to sort the resulting collection and get it to the Council transfer station. We will hopefully be able to provide more bins in the future if there is enough student support. As the price of sending waste to landfill increases, we hope more money will be available to support this.
On a couple of weekends during 2021, some of the group gathered at school, armed with rubbish bags, to pick up litter in the area as a service to the community and a bit of team bonding.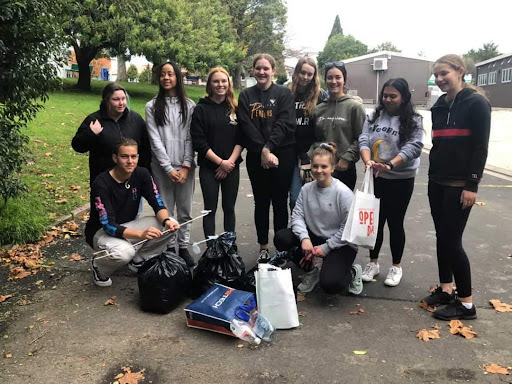 A handful of our senior members met with others from similar groups at other bay schools at a meeting convened by Jim Critchley of Mount College for some information and idea-sharing and were very inspired by what others are doing.